THE 2022 UPDATE
I mostly don't use D-Fend Reloaded anymore in favor of a certain pre-configured setup, but these icons may still be useful for those that do - they just won't be updated anymore.
I use D-Fend Reloaded a lot when emulating DOS games, because it's clean and easy to use while giving me a lot of customization tools. I also like making the frontends I use pretty, because... I dunno why. I guess it keeps me off the streets... But anyway, I made a set of 64x64 icons for D-Fend Reloaded is the gist of what I'm trying to say here.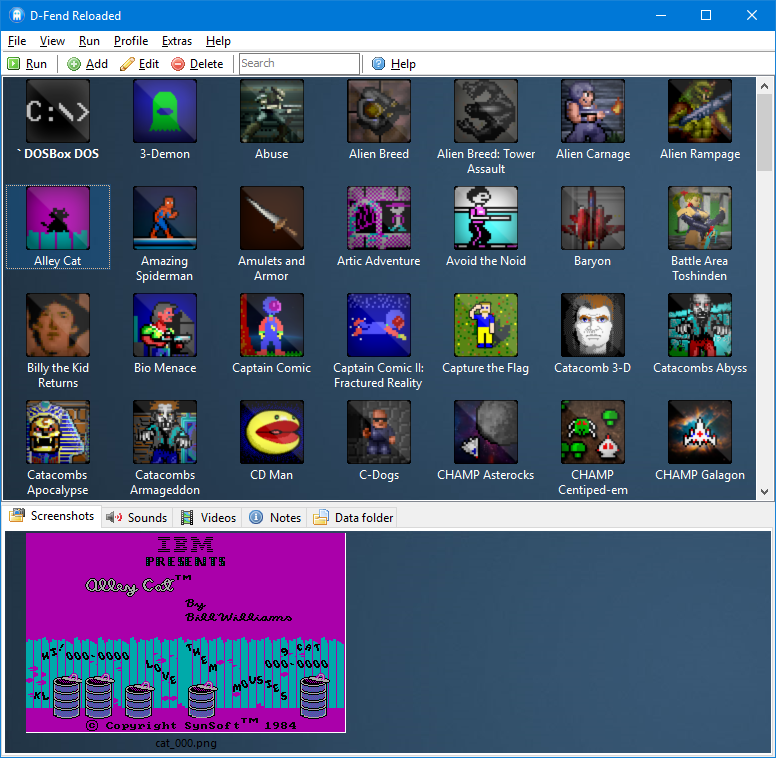 This is what it looks like. Or can look like, with a little elbow grease...
If this is a thing you'd like to make D-Fend Reloaded look like, then here's how:
Download this ZIP file! (Updated 16 December 2018)
Throw it all in your IconLibrary folder. Where that is exactly depends on whether this is a portable install or not. It'll either be in your D-Fend Reloaded folder or your C:\Users\Username\D-Fend Reloaded folder.
In program settings, set the Games List and Media Preview backgrounds to back.jpg, and set the icon size in Games List > Icons in Icons Mode to 64.
Hit View > Icons
Painstakingly set the icon for each and all of your games.
If you wanna make your own icons in this style, you can grab the PSD here.
Credits
Many of the images used come from the Mobygames screenshots section.
A pretty hefty number of icons were made by Tormentor667. I think I've replaced a bunch of them, though.