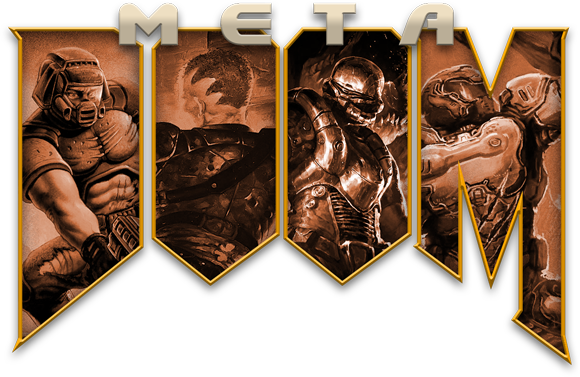 When Doom 3 came out, there were a number of attempts to recreate its gameplay within the boundaries of the Doom source ports of the time. Similarly, Doom 2016 received similar recreation efforts, with varying levels of closeness to the original source material. Ultimately, looking at these efforts made me take a step back and think: why restrict yourself to mashing just two games together...?

MetaDoom is a gameplay mod that attempts to merge in elements from every Doom game ever made into something loosely resembling a cohesive mass, with Doom 2, 3, 2016 and Eternal elements standing side-by-side and often merged together in new and interesting ways. And then the obscure stuff, like the mobile games and console ports, get thrown in... then the resulting mass of flesh and guns gets thrown into a blender for five minutes. Serve with a clove of garlic.
Intelligent Randomization doles out new weapons and monsters gradually, giving you time to get your footing before unleashing the true mayhem of the Extended Doom Universe unto you.
Flagrant Abuse of every new feature GZDoom introduced during development as it appears. Fancy visual effects! Procedurally-generated loot item spawns! All sorts of other fun stuff!
The Codex, a powerful assistant by DrPySpy that records information and lore about every weapon, item, monster and pointless piece of paraphernalia you find.
Secrets and Easter Eggs galore! From secret pickups to new cheatcodes, it just wouldn't be one of my mods without them.
Mapper friendly! All new items and weapons can be placed directly without randomization, certain features like automatic loot placement can be turned off by placing a specific thing anywhere in the map, and there are several new things designed specifically for custom maps, like extinguishable fires and Meathook grapple points!
(Check out more trailers from past versions here!)
Downloads:
(v7.1 "Ghost", 16/05/2021)
Get knee-deep in the unfinished new stuff.
A really cool custom map that really shows off the possibilities for custom map support. Well recommended!
Discussion: